Dear Atlasser,
COVID-19: The Atlas team reminds all atlassers to be aware of the latest COVID-19 conditions in Ontario. Please follow all public health guidelines and restrictions, and check for updates frequently. Information on the latest conditions and public health guidance can be found on the Government of Ontario website. Follow the links to the most current situation in the province.
This edition of the Atlas-3 newsletter will cover: ​
Year 2 kick-off event

New discussion board (Discord)

Owl surveys

Atlas clothing

Stickers

Atlassing in North-eastern Ontario

Breeding Bird Survey (BBS) and the Atlas

Early Season Atlassing – April targets

Updates from Significant Species Committee
Tuning up for 2022
Spring is in the air, the birds are pouring back in and nesting behaviour is accelerating, for some species at least. It's time to start gearing up for the coming season. Don't forget to be studying Dendroica to tune up your ears for the building chorus and help you find those elusive birds. For tips on how to make the best use of Dendroica, check out this YouTube video.
2022 Atlassing Kick-off event – April 23 and 24
On the Earth Day Weekend, we are officially kicking off the atlassing season with webinars and (finally!) field events to help you get into atlassing mode and prepare you for the season ahead. Hoping you can join us.
The event will be somewhat similar to last year's Launch weekend, but this time you get to meet fellow atlassers, do some first hand learning from experts, perhaps connect with an atlassing mentor or mentee, and contribute to the atlassing conversation face-to-face. 
In the afternoon of Saturday, April 23, there will be a series of webinars covering topics such as:
Intro to atlassing (for those new to the project)

Early season atlassing (Safe dates and Breeding evidence)

Special surveys (Owls and Marsh birds)

The new NatureCounts app, including how to pin significant records

How to use Zoom H2n recorders
Although we will have a webinar session introducing the Atlas, if you're new to atlassing, you might want to check out the many resources on the Atlas YouTube channel prior to the event.
On Sunday morning, April 24, some Regional Coordinators are organizing local events across the province. These will give you a chance to meet your fellow atlassers, get some first-hand training on various aspects of atlassing and help with your planning for the season ahead. Bring your questions. Check with your RC for details of these events and the challenges mentioned below.
We are putting out three inter-regional challenges – where we will compare results among regions to determine which region wins.  The first is to see which region can do the most standardized owl surveys during March and April (up to April 22) – there will be prizes for each survey type, so one for the Eastern Screech-Owl survey, one for the Barred Owl and Northern Saw-Whet Owls survey, etc.  The second challenge is to see which region can confirm breeding for the most species during the period April 16-24, 2022 (Hint: Used nests from 2021 can be very useful here). And the third challenge is to see which region can provide the most pictures of atlassers in the field. To enter this one, tag @ONBirdAtlas on Instagram or @ONBreedingBirdAtlas on Facebook in your post or story, and make sure to include hashtags of both #ONBirdAtlas2022 and #RegionNUMBER (e.g. #Region08 or #Region37) with the photo so we can tally the results per region!
For each challenge, we'll be doing some calibrations (e.g. based on the size and population densities of regions) to make these as fair as possible.  We want to be sure all regions are able to compete equally in the challenge! 
On Sunday afternoon, we'll have a short session looking at the results of the various challenges, and providing a chance to ask your questions arising from the morning's activities. There will also be a dastardly quiz of the kind that only Sarah Rupert can devise. Keep an eye on your inbox – we'll be sending out more information in the coming weeks!
Atlas-3 discussion board gets a makeover: an Atlas-3 Discord server
After limited uptake in year one, the Atlas has changed direction on the discussion board and replaced it with a space on Discord. A free online service, Discord lets people form their own "servers" as a place where their members can talk and share information. The main benefit of using Discord is that it has a dedicated mobile app so it's easy to quickly open it up and ask a short question, even when you're in the field. We hope this is a good tool for atlassers to ask questions, share stories, stay up to date on announcements, learn from and connect with each other.
We considered Discord before year one but wanted something where anyone could go and view the discussion on the Atlas-3 webpage without needing another login or app. Thanks to Kaelyn's hard work, we now have that option with Discord.
If you want to just read the Discord discussion, then you can continue viewing it all on  the Atlas-3 website. The new discussion board is found under the "Get Involved" menu or by direct link at www.birdsontario.org/discussion
If you'd like to participate, then you'll have to first create an account with Discord, then you can join the Atlas-3 server using this invite link: https://discord.gg/JCfgfr3egG
We have structured the discussion board with basically the same major subjects (or channels, as they are called in Discord) as we had on "the original" Atlas-3 discussion board, and done our best to copy the  discussion board content over to Discord.
For a tutorial on joining the discord server see: https://youtu.be/YPWgY0pXfSs
Standard owl surveys
March and April are key months for the standardized owl surveys, with 4 different surveys underway during that time period. We hope you'll give an owl survey a try – you don't have to be an expert birder to do these surveys and everyone knows how cool owls are! For additional incentive, we're having a challenge, with results to be announced at the Kick-off event on April 23-24, to see which region can get the most owl surveys done (see above for details). 
View the protocols and watch a recent Sappy Hour on completing the owl surveys. Contact your RC prior to completing the survey to discuss survey location!
Atlassing with Mark and Emily – the Halfway Lake Square-bash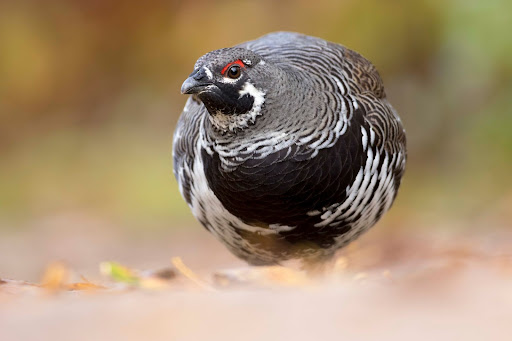 Spruce Grouse photo: Mark Peck
Mark Peck of the Royal Ontario Museum, renowned for his work on the Ontario Nest Records Scheme, and Emily Rondel of Environment and Climate Change Canada, who MC's the Atlas Sappy Hour webinars, are leading a square-bash at Halfway Lake Provincial Park for the period June 10-15, 2022. Halfway Lake is a lovely area an hour north of Sudbury with great big glacial erratics and plenty of boreal habitat, including the potential for species such as the Connecticut Warbler, which reaches the southern edge of its breeding range in this area, and Spruce Grouse pictured above. The park has generously set aside 5 campsites for that period for atlassers to use free of charge. If you can join Mark and Emily for all or part of that period, please drop them a line at toronto[at]birdsontario.org, telling them what dates work for you, how many people are in your party and whether or not you can do point counts. Thanks to Ontario Parks for their support.
Response has been fantastic for the Grundy Lake Square-bash (also June 10-15) and it is now full – thanks to everyone for your enthusiasm. There is still room at the Mikisew Square-bash (June 17-22), where Ontario Parks is also providing free camping for atlassers for the event. Sudbury RC Darryl Edwards and Atlas Coordinator Mike Cadman will be leading the Grundy Lake event. Parry Sound RC Alex Mills, Manitoulin RC Anna Sheppard, and Atlas Assistant Coordinator Kaelyn Bumelis, will be leading the Mikisew event. Hoping you can join us for some enjoyable atlassing, and filling in some key gaps in Atlas coverage. Please e-mail atlas[at]birdsontario.org
Atlas Swag

​You can now purchase almost anything (T-shirts, caps, mugs, tote bags, etc.) with an Atlas logo on it. To view the merchandise and make your purchases, click here. Looking forward to seeing you stylishly sporting your Atlas gear!

Atlas stickers

Is your windshield in need of some beautification? Is your travel mug or laptop looking too plain? Well, you can help spruce up these items, identify yourself as an atlasser, and provide some low-key promotion for the Atlas by using Atlas stickers in prominent places such as these. The clear plastic stickers with the Atlas logo, see example to the right, are being printed out and distributed to Regional Coordinators in time for the 2022 Kick-off event on April 23-24. Another great reason to make sure you attend in person.
Atlassing in northeastern Ontario
Ken Burrell
The bugs are what I refer to as "boreal bad", but the birds are what really takes the cake. Every year since 2013 my Dad, Jim, and I have spent our Canada Day long weekend running our three annual Breeding Bird Survey (BBS) routes: Lower Tweed Lake, Pearce Lake, and Hilliardton.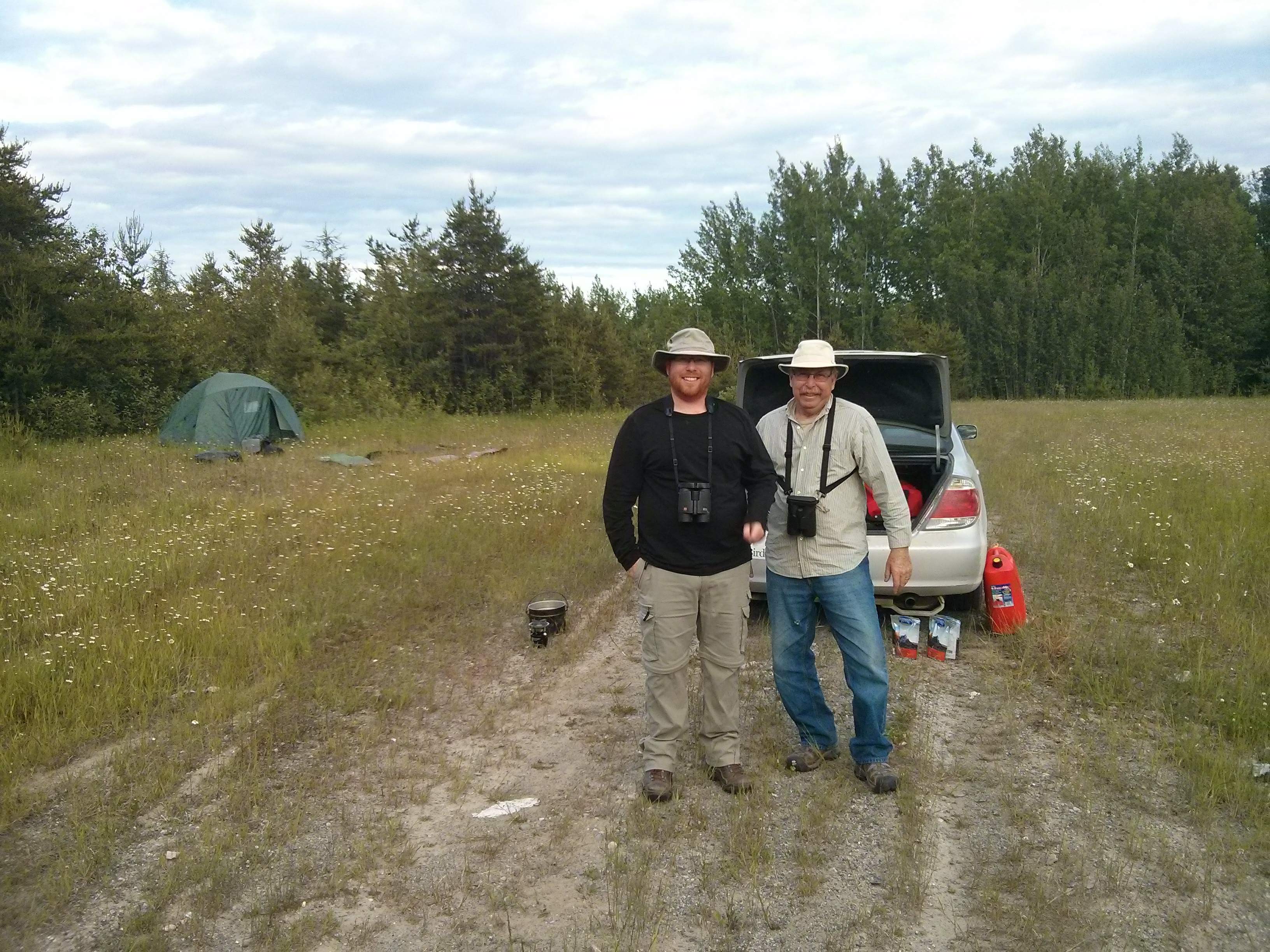 Ken and Jim Burrell making dinner and setting up camp in 2014 before a morning of the Kabika Lake BBS route east of Cochrane. Photo: Mike Burrell.
In 2021 we were able to join forces, so to speak, and not only did we complete our three BBS routes (which will be included in Atlas-3's data), but we also atlassed along the way. We've carefully planned our effort over the five years that Atlas-3 will be running, and are planning to take on three squares, with the goal of providing 20 hours of coverage and completing 25 point counts in each square over the duration of Atlas-3. In 2021, in addition to these three squares we also provided some coverage to over 40 atlas squares over our Canada Day long weekend.
Our Canada Day long weekend trip starts with us driving north from Kitchener-Waterloo, past Cochrane to Hwy 652 – the road servicing the Detour Lake gold mine – where we camp at our favourite spot on crown land. Usually we're pretty tired after the long drive, but we try to fit in some time driving the logging roads that criss-cross the landscape at dusk and hope that we'll luck into a Solitary Sandpiper or American Three-toed Woodpecker or two, along with the ubiquitous Common Nighthawks that are usually barrelling overhead. Our first morning starts at the crack of dawn (around 4:30), dashing to the car from our tent (because of the bugs!), where we scarf down some breakfast before starting our first BBS route – Lower Tweed Lake. Running this route gives us a great overview of the true boreal species of northeastern Ontario: Fox Sparrow, Orange-crowned and Wilson's Warblers, Bonaparte's Gulls, and Boreal Chickadee to name a few, along with the ever incessantly calling Greater Yellowlegs not far away! In 2021 we were lucky enough to come across both Long-eared and Northern Hawk Owls while running our route, but not every year is so lucky.
Once we finish our route in the morning, we take down our camp, before making the 2.5 hour drive to Kapuskasing, where a welcomed hot shower is awaiting us. The next morning we are up well before dawn, where we drive 35 km north of town to start our second BBS route – Pearce Lake. This route is quite interesting, starting with aspen and mixed forest, before transitioning into some old growth Black Spruce bogs, where Connecticut Warblers and Great Gray Owls beckon us to the next point count! Species like Spruce Grouse, Tennessee Warbler, and Olive-sided Flycatchers are usually seen over the course of the morning, while more unusual species that we've lucked into include Pine Grosbeak and Sharp-tailed Grouse. After finishing up our Pearce Lake BBS route, we travel north to a series of Ontario Power Generating hydro-electric dams, where we take logging roads to the east and drive into Fraserdale, before making our way south to New Liskeard, close to 4 hours away.
Our last full day "up north" has us running the Hilliardton BBS route, which basically covers from Englehart south to Hilliardton Marsh. This route is quite a bit different from our previous two BBS routes, and species like Bobolink, Savannah Sparrow, and Tree Swallow dot the landscape, while closer to Hilliardton Marsh species like Wilson's Snipe and Black Tern are typically encountered. Finishing up this route has us on the road for Kitchener-Waterloo by late morning, and arriving home by dinner time, if we're lucky.
All in all, our Canada Day long weekend trip is something both my Dad and I look forward to every year (despite the bugs!), and contributing our data to both the BBS and Atlas-3 makes it that much more enjoyable! Like last year, we're eagerly looking forward to this coming Canada Day long weekend where we hope to continue carefully plugging away at our three atlas squares.
There are lots of opportunities for interested volunteers to help fill Atlas-3's data and effort gaps, particularly in northern Ontario. Reach out to our expert Regional Coordinators or watch for upcoming information about northern Ontario square bashing events, including the Block Party in block 17UNR, which incorporates part of our Lower Tweed Lake BBS route mentioned above. 
Breeding Bird Survey and the Atlas
Natasha Barlow

The North American Breeding Bird Survey (BBS) and Atlas-3 are two complementary programs dedicated to collecting data on the distribution and abundance of breeding birds. As Ken notes in his experience collecting Atlas data and running BBS routes in northern Ontario, pairing a BBS route with Atlassing can double your impact in providing valuable data on Ontario's breeding birds. 
One day a year, during the peak of the breeding season and for as many years as possible, skilled BBS observers run their assigned roadside route(s). Routes consist of 50 stops spaced 0.8 km apart along a 39.4-km route. Participants record the total number of individual bird species heard from any distance or seen within 0.4 km of each stop during a three-minute observation (i.e. point counts). In Canada, the acceptable dates for running routes are between 28 May and 7 July. These data are carefully analyzed on a yearly basis to provide information on bird population trends, relative abundance and species composition and richness at the local, regional and continental scale. BBS data are freely available, and are used by scientists, wildlife managers, educators, and students, as well as by the general public, and will be added to the Atlas database.
If you're already Atlassing in Ontario, especially in the central and northern parts of the province, and are interested in adopting a BBS route to increase your impact, please reach out to Natasha Barlow (nbarlow[at]birdscanada.org) by mid-April to see how you can get involved, and/or visit the BBS website to view vacant routes near you. 
The Atlas will provide an unprecedented understanding of the status, distribution and abundance of Ontario's birds, and together with the BBS, we can simultaneously collect data to help protect and conserve Canada's birds for years to come. 
Early Season Atlassing – April targets
As we inch toward the peak breeding season more and more species are arriving back and beginning their own unique breeding season. While April is still early, many species have already begun their breeding season.
Reminders for early season atlassing
Don't forget to refer to the breeding charts at www.birdsontario.org/safe-dates whenever you're atlassing outside of peak atlassing season (May 24 to July 10). Exercise caution when using "lower" breeding codes during this time, especially outside of a species' safe dates (when migrants/non-breeders may display similar behaviours).
April targets
Stick nesters: Before the trees leaf out is a good time to watch for stick nesters. Bald Eagle, Osprey, Red-tailed Hawk, Great Horned Owl, Great Blue Heron, and American Crow are prime targets. This is likely the last chance to confirm Common Ravens as they finish nesting early.
Accipiters: In addition to looking for their stick nests, all three species should be regularly doing their display flights over their territories, especially early in the morning. Watch for males to flap with slow, steady, and deep wingbeats with undertail coverts flared. This flight is much different than the typical direct flight these birds are known for. 
Owls: We are into safe dates for most owl species now so most observations can be atlassed. We are also into the period for standard surveys for Eastern Screech, Barred, Great Gray, Northern Saw-whet, Boreal, and Northern Hawk Owls. 
Other early season nesters: Many other species are beginning to establish territories. Until we are in the safe dates, remember to wait until you can apply a higher level breeding evidence code (e.g. wait for them to be maintaining a territory for at least a week). These include many resident and short-distance migrants common in backyards and urban areas such as various woodpeckers, Ruffed Grouse, American Woodcock, White-breasted Nuthatch. Many of these species will become more difficult to detect later in the year. Don't forget that the drumming of woodpeckers and Ruffed Grouse and the display flight of American Woodcock counts as "singing" (S).
Updates from Significant Species Committee
Of the ~650,000 records submitted during year one to the Atlas, approximately 3% were flagged as Significant Species. All of those flagged records get reviewed first by Regional Coordinators and then a secondary review by the significant species committee.
In general, we encourage atlassers to focus on increasing the quality of details provided (and especially on pinning locations) for significant species records.
Don't forget that depending on the flag, we're looking for different information:
| | | | |
| --- | --- | --- | --- |
| Symbol | Name | Explanation | Details requested |
| [rare] | eBird flag | If a species is rare for the date and location according to the eBird filter, you will be required to add details. | Details about how you identified the species. |
| † | Provincially rare | Provincially rare breeding species. Will be flagged if you enter breeding evidence. | How did you identify the species? Explanation of breeding evidence. "Pin" the exact location(s). |
| ‡ | Regionally rare | Regionally rare breeding species. Will be flagged if you enter breeding evidence. | How did you identify the species? Explanation of breeding evidence. "Pin" the exact location(s). |
| §    | Species of interest | Species of interest. Widespread species at risk or colonial species. Will be flagged if you enter confirmed-level breeding evidence. | "Pin" the exact location(s) and for colonial species, details about the size and status of the colony. |
Happy Atlassing!
– The Atlas-3 Team
The Ontario Breeding Bird Atlas-3 thanks the following for their financial support:
Environment and Climate Change Canada

TD Friends of the Environment Foundation

Vortex

Newmont

Natural Resource Solutions Inc.,

Hodgson Family Foundation

Baillie Fund

Wildlife Habitat Canada

RBC Foundation

Employment and Social Development Canada (Canada Summer Jobs)
The Ontario Breeding Bird Atlas-3 thanks the following for their in-kind support:
Boreal Avian Modelling Project

Natural Resources Canada 

Ontario Parks 

Parks Canada Agency

Royal Ontario Museum 

Sustainable Forestry Initiative 

University of Alberta 

Wild Birds Unlimited 

WildTrax

Ministry of Northern Development, Mines, Natural Resources and Forestry