Dear Atlasser,
COVID-19: The Atlas team reminds all atlassers to be aware of the latest COVID-19 conditions in Ontario. Please follow all public health guidelines and restrictions, and check for updates frequently. Information on the latest conditions and public health guidance can be found on the Government of Ontario website. Follow the links to the most current situation in the province.
This edition of the Atlas-3 newsletter will cover:
Introduction

Northern Trips: Ogoki 2022 report by Christian Renault

Big Atlas Weekend results

An Interview with Regan and David Goodyear – Ontario's Big Atlas Weekend Most Valuable Atlassers

Atlas field crews; report by Scott Da Rocha

Square Bashes: a great success

Atlas Swag

Monthly challenge for September

Volunteer feedback needed
Introduction
Two down and only 3 glorious years of atlassing left to go. The phrase, known as the curse of the Atlas Coordinator, keeps coming to mind: "so much Ontario and so little time".
Nevertheless, 2022, the second year of Atlas-3, leaves us optimistic. Data are still coming in at the time of writing (late August), so it's hard to be too specific, but over 200 new atlassers took part in 2022, and the number of point counts is already higher than the 2021 total. And, there are probably lots of point counts and other data yet to be entered. Speaking of which….
Please aim to get your data in by the end of August. Having the data in by then helps us summarize and map progress to date, identify gaps in coverage, and helps us plan for 2023 and beyond. If you can't make the end of August deadline, we still want your data, so please be sure to get them in as soon as possible.
Be sure that your records are properly documented, including pin-pointing locations of Significant Species. If you're not sure how to do this, see the instructional video.
Northern Trips: Ogoki 2022
In 2022, we were able to start canoe-atlassing trips in the remote north, with 5 trips getting underway. It's wonderful to see the data coming in from these exciting and often challenging expeditions, starting to fill in the huge gap at the north end of the province. We'll be working hard to increase the number of trips in the north each year to ensure that we get adequate coverage. 
Here's a write-up from one of the 2022 trips, from Christian Renault. When he's not paddling the mighty Ogoki River, Christian is the Atlas RC for Region 26, Pembroke. Many thanks to Christian for his write-up, to the rest of his 4-person crew, and to all 5 of the intrepid crews that got us going in 2022.
Ogoki Trip Report – June 14-27 2022
Christian Renault
Nakina air base on Lake Cordingley was the meeting place. We flew off at 11:15 for about 35 minutes, our 2 canoes tied on the pontoons, and were dropped off at the mouth of the Dusey River, on the Ogoki River. Water level was high, so the current was strong. We paddled a short distance to a rocky point to settle for the night and plan for tomorrow.

The first 6 days were in the Canadian Shield, with rocky shorelines and several rapids. We had to portage a few for 30-70 m for safety. The crux was Eby Falls. We never found its portage, likely overgrown with dense young trees in this burn area with a lot of fallen trees. It was very difficult to portage, but Conor saved us time and effort by solo canoeing down to the last 70m, and then scaling the 50° slope of the shore.

Christain Renault and Alex Stone enjoy a moment along the Ogoki River.
Most of the area had fires in the recent past: a lot of black trees, some standing, some fallen, with new growth that made walking difficult. A lot of the forest is dense and has wetlands, with a lot of willows, alders, and dogwood in the way, plus black spruce branches in the face, and slippery fallen trees. Biting insects are always abundant, and at times, we had to use DEET to avoid insects between reading glasses and eyes, and while using the GPS units. We all have dried mosquitoes in our notebook pages, without trying.
The weather varied a lot, being a major factor on whether or not we could bird. It held us up 2 and a half days. We had several thunderstorms, many windy days (20+km/h), many showers, and temperatures that were often around 7°C early in the morning, one minimum of 3°C at night, but maximums varying from 11°C to 31°C in the day. The river was above 12°C and swimmable when we were hot.
Some bird highlights: Black-billed Cuckoo, Golden Eagle, Spruce Grouse, a Great Gray Owl flying in front of our canoes carrying food, a Northern Hawk-Owl perched on top of a dead tree, harassed by 2 Tree Swallows and a Robin. Some common species: Black-backed Woodpecker, Cape May Warbler, Tennessee Warbler, Greater Yellowlegs, Spotted Sandpiper, Connecticut Warbler, Canada Warbler, Least Flycatcher, Yellow-bellied Flycatcher, Red Crossbill, both kinglets. Not so common: Canada Jay, Boreal Chickadee.
The last 6 days were on the Albany River, from Ogoki to Stonebasket Island. It was hard to find a landing shore, and most of the shoreline had banks over 45° slope. We could find tent space between fallen logs. Gradually, the forest became less dense and opened up to flat land with sparse small trees, but everywhere soggy with sphagnum moss, and abundant biting insects. Physically, it was not as hard as the first week, but walking several km in soggy sphagnum was still exhausting. The current was also stronger: we could hardly paddle upstream ("Ogoki Treadmill"), or stay in place if we went swimming .
Point counts were done on 6 mornings: typically, we woke up at 0430, left after 0500 to go birding, and, depending on the terrain and distance covered, came back between 0900 and 1100.
General atlassing was done constantly, at the campsites, portaging, at any stops along the way, and while paddling, most often one canoe along one shore, the other, on the opposite shore. We also recorded most of the birds that were heard and saw as we walked to the point counts. This way, the great majority of the birds we detected became statistics.
Some highlights: One night, we were woken up at 4:28 by a Boreal Owl singing amidst our tents. Ducklings and their mothers. A few Sandhill Cranes. Several nice Warblers: Canada, Connecticut, Bay-breasted, Tennessee. A Spruce Grouse on the shore while we paddled close by. On the last 2 days, we got a few species that had eluded us: Osprey, Red-tailed Hawk, Orange-crowned Warbler, another Great Gray Owl and Northern Hawk-Owl. On the last night, we counted all the species we saw and heard: 105. We rejoiced with the results, and some of the lifers we heard or saw.
We were happy to jump back in the plane, relieved that we all made it safely, healthy, and uninjured. The weather was nice, and from the air, we could see the boreal forest, the moss plains, the small rivers, beaver ponds, the "ice road" leading to Ogoki that is hard to walk on in the summer, being full of bush and moss. We were happy to go back home, but we all enjoyed the birding experience, despite the weather, the almost continuous soggy wetlands, difficult rapids, and the myriads of insects who "liked" us.
Two of us got to Nakina 2 days earlier to do general atlassing and point counts in the Lake Cordingley square. We were glad to do that, as it acquainted us with less familiar bird songs from the Boreal Forest, and with some new camping equipment. Also, to develop methods of preparing food despite abundant insects, and getting in and out of our tents without having too many insects following us.
Final remarks: We formed a great team, and got along very well. Filtered water was certainly easier and faster to produce than using pills or boiling it, and we all drank a lot because of the wind, sometimes the heat, and the sweat while walking or canoeing. We didn't see bear. All food was in sealed containers to avoid diffusing smells, mostly in 30L barrels, protected from rodents. Meals were cooked ahead and dehydrated, or prepared  with dry food. Fresh ingredients that lasted long: peppers, onions, apples, carrots. Most food was cooked on wood fire, and sometimes with liquid combustible. Spruce or cedar tea provided vitamin C. Several pairs of dry socks essential.
What brought us to this challenging landscape , and travel on canoes with strangers for 12 days? Passion for the birds, and the outdoors. Also, the motivation of acquiring data for Atlas-3 energized us to overcome the insects, being wet, and cold several times.
Team Members: Stéphane Menu, Conor Mihell, Christian Renault, Alex Stone.
Big Atlas Weekend
This year, the Ontario Breeding Bird Atlas joined Newfoundland, New York, Maine, Maryland and DC, and North Carolina for an exciting annual event – the Big Atlas Weekend! This event was a fun way for birders to document breeding birds and come together as a birding community that crossed borders. Although Ontario didn't claim bragging rights for winning the Big Atlas Weekend trophy (we'll get it next year!), we collected a lot of important data for the project:
| | |
| --- | --- |
| An impressive 287 Atlassers participated in the event over the June 24-26 weekend. These Atlassers submitted 1,590 checklists (totalling 886 hours of data collection) which took place over 463 squares. Thanks to these efforts, 16,967 breeding evidence records were reported for 197 species! | |
Over the course of the Big Atlas Weekend, there were prize opportunities for atlassers of all skill levels, ranging from first-timers to veterans: 
Donna Ferguson

won the challenge to submit a complete Atlas checklist, with breeding evidence, in a new-to-user square. 

Jay Solanki

recorded a Willow Flycatcher in square 17TNJ25, which crowned him the winner for the challenge to submit species with breeding evidence that were not reported with breeding evidence in that square before the Big Atlas Weekend

Dave Worthington

won the challenge to submit a complete atlas checklist with at least one species with Confirmed breeding evidence by recording an American Robin with the breeding evidence code FY (Recently Fledged Young or downy young incapable of sustained flight)

Sue Deadman

did some atlassing in the evening time, and won the challenge to submit a complete Atlas checklist with nocturnal effort

Samantha McFarlane

won the challenge to submit a complete Atlas checklist in a square with less than 20 hours of atlassing in the peak season

Joseph Bloom

recorded a Bobolink, and won the challenge to submit a complete Atlas checklist with at least one significant species (with breeding evidence)

Regan and David Goodyear

won the Most Valuable Atlassers for submitting the most records for each challenge category. Read more about our Big Atlas Weekend MVAs below! 
An Interview with Regan and David Goodyear – Ontario's Big Atlas Weekend Most Valuable Atlasse

rs

By: Alyssa Sandford

On June 24-26, 2022 the Atlasses from Ontario, Newfoundland, Maine, New York, North Carolina and Maryland/D.C. participated in the Big Atlas Weekend. Ontario came in 3rd, and we are proud of the contributions and efforts all our atlassers made. Two of our atlassers, however, went "above and beyond" that weekend. Regan and David Goodyear have been avid birders, community scientists and adventurers for over 35 years, and are two of the Regional Coordinators in Muskoka (Region 18).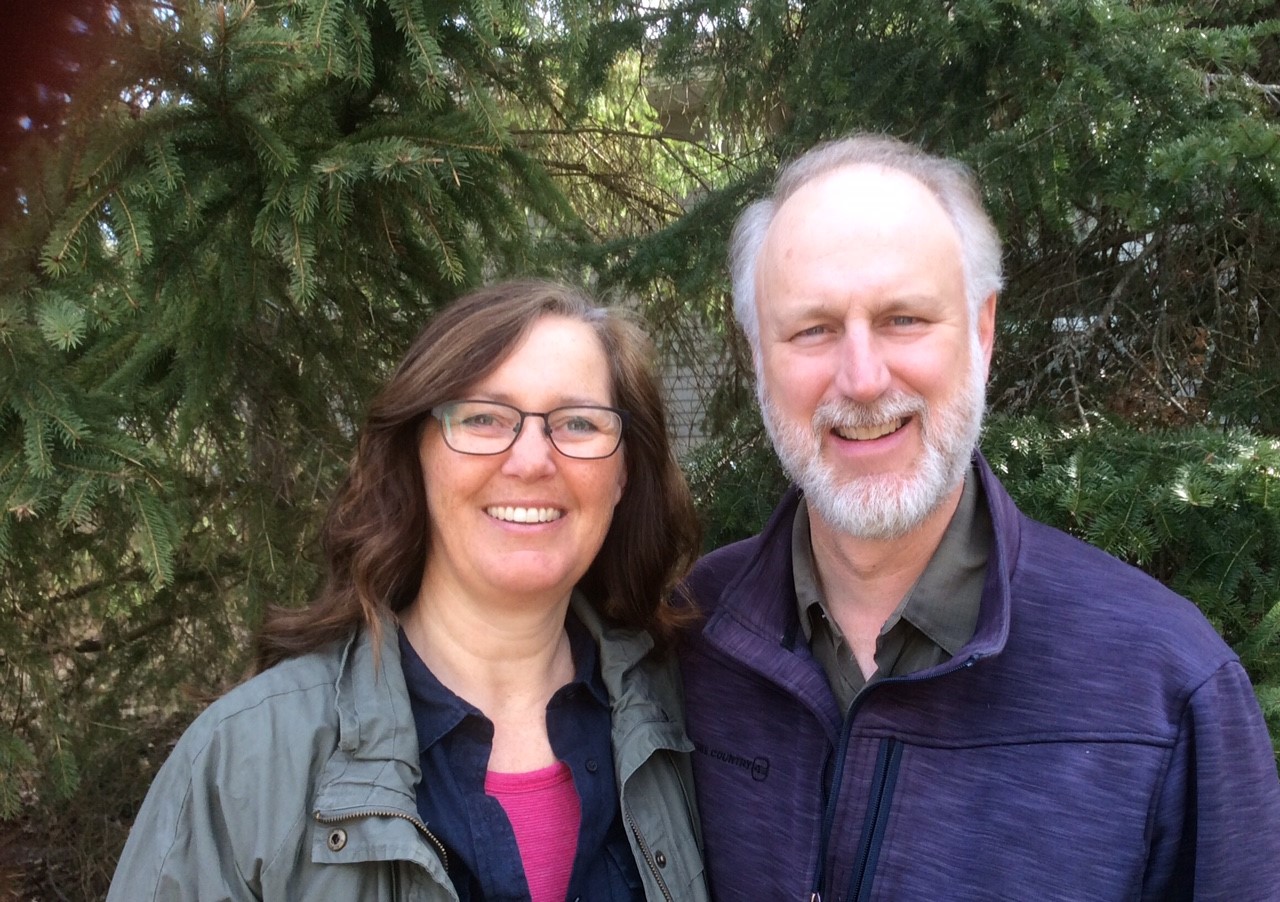 Regan and David Goodyear, Ontario's Most Valuable Atlassers for the 2022 Big Atlas Weekend
They have already spent hundreds of hours helping with the coordination, running and reviewing of records in the Muskoka region, and have even taken on 7 squares themselves. The Big Atlas Weekend sounded like fun and was a great way to work on some of their squares, so they joined in with gusto. Some of their notable highlights on that weekend included 49 checklists in squares with less than 20 hours of peak-season atlassing, and 219 records of species with breeding evidence that were not recorded prior to that weekend. They also had 22 records of confirmed breeding, and documented 7 significant species with breeding evidence.
To learn more about their Atlas work and their Big Atlas Weekend efforts, I sat down with them virtually for an interview.
Do you always birdwatch together?
Yes, a lot of people say that we are lucky to have a spouse who enjoys birding.
What do you enjoy most about atlassing?
It's changed the way we bird. We were always avid listers, but atlassing makes you ask a lot more questions about the bird; what are those two Cardinals doing? Is it a pair? Oh, look, they are mate feeding. Then you might notice the Mourning Doves are preening each other and the House Wrens are investigating nest boxes. It takes you so much further into birding than just ticking a list. So yeah, it's been a lot of fun. We've learned a lot.
We've gone to places in the Muskoka Atlas Region that we didn't know existed or would otherwise never have visited. A lot of back roads, strange places, a lot of hydro cuts and backwoods trails. Places like those squares up in Parry Sound, in the north corner of our Region. We don't think we'd have gone up there if we hadn't been going up to Atlas. We've found some amazing, beautiful places. We also got kayaks when the Atlas started, so that we could go paddle-birding. In Muskoka, if you don't own property on a lake, it's very difficult to access shorelines. With the kayaks we've paddled over 250 km, and we can now go up all these creeks and into marshes and up the rivers. It's just opened up so much more of Muskoka. It's been really fun.
The other really cool thing about atlassing is all the people. We were going to say people we have met, but we actually haven't met them. We haven't physically met them yet because of COVID-19, but we've spent a lot of time emailing atlassers, answering questions and chatting. We've had a few online meetings with atlassers, and we're hoping that next year we will be able to get together in person and do some square bashing with the people that we've met. We have a great crew of committed atlassers here.
Where did you focus your efforts for the big Atlas weekend?
The Atlas office had suggested atlassing in squares you hadn't birded, so we looked at the coverage map and we found some squares that needed hours. We stayed in the Muskoka Atlas Region, and we looked for squares that didn't have many hours in them. A couple of them may have had zero hours.
Another thing we did was plan ahead. When we're going to do point counts in a square, we go and we pre-bird the point counts. We go up a week before, and we spend 15 minutes to half an hour in the area so that when we go back to do the point count a week later, any bird that we re-record during the point counts can be counted as being on Territory from the week before, which bumps them up to Probable breeding evidence [the Territory code is Presumed Territory based on the presence of an adult bird (usually singing, but not necessarily so), in the same suitable nesting habitat patch on at least two visits, one week or more apart, during the species' breeding season]. So, on that Big Atlas Weekend we had pre-birded some of the squares the week before, ensuring that we were able to upgrade many species' breeding evidence to "T". Some of our northern squares take over an hour to get to, so we can't bird them every day. We've got to be a little more strategic about getting to those squares and upgrading breeding evidence.
What was the most memorable moment for you during the Big Atlas Weekend?
It was probably the Seguin Trail – it's an amazing trail. We walked up the trail, and when we looked on our Avenza maps, we realized it ran through two squares. We walked further than planned so that we could get into the next square and get some birds for that square, as well. We found 4 Virginia Rails in one square, and then another one called back from the other square. It was pretty cool, 5 Virginia Rails and a couple of Soras. They were completely unexpected. That was also the day we found the Eastern Kingbird nest. There was a birch stump sticking up about five feet above the water. The Kingbirds were nesting right on the top of it, completely exposed. No attempt to protect the nest from the elements. The adults were flying back and forth, feeding the young in the nest. We could see the young in our scope and every time the parents came close, all the little mouths came up. It was great.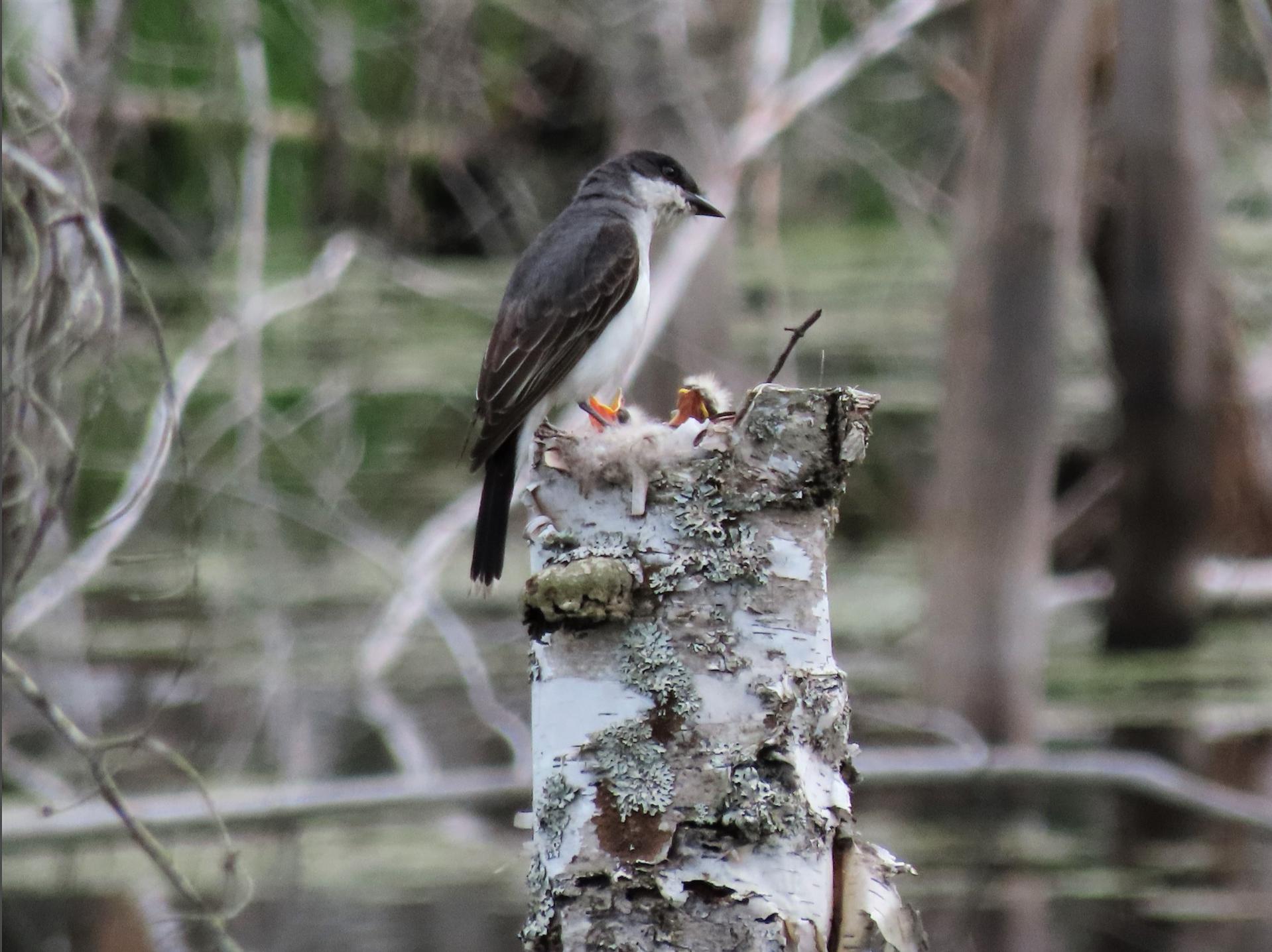 Eastern Kingbird with young (Photo: Regan and David Goodyear)
Did you do the northern squares because you hadn't been there or because there wasn't any data?
The first two squares we did because we hadn't been there yet, and the other two because they had minimal coverage. We did point counts in one of the squares so that we can go up for a Square Bash next year. The point counts will be done, and we can get people to go up and bash through the hours which will help us get the squares finished!
We're kind of sad though, we can't believe there are two seasons gone already. Noooo!
Atlas Field Crew Report
Each year, the Atlas hires a crew of early career birders to help fill in gaps in Atlas coverage – usually in Central Ontario. This year, Birds Canada, Canadian Wildlife Service and Ontario Nature joined forces to hire two crews of 4 people that set about filling in empty squares in the part of the province from Algonquin Park to the Hearst area.. Scott Da Rocha was a member of the "Southern" crew, employed by Birds Canada. He wrote the following report on his summer's work. 
My Atlas Experience 
Scott Da Rocha, 2022 Atlas Wildlife Technician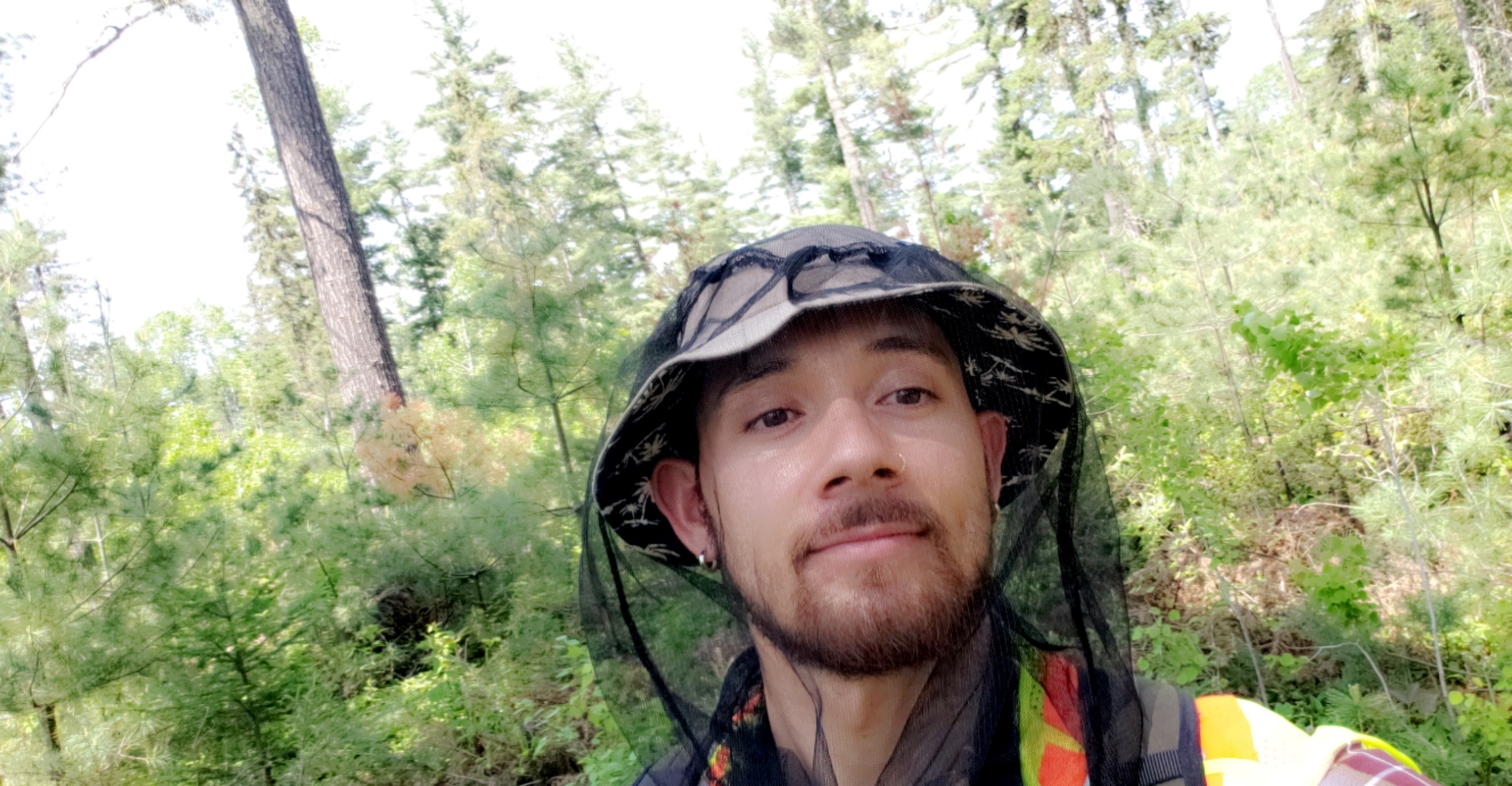 Scott Da Rocha conducting fieldwork for Atlas-3
Ever since I started my academic career 6 years ago and saw my first Red-tailed Hawk snatch a snake from a field, I have been fascinated by birds and their behaviours. When I joined Birds Canada and the Ontario Atlas team in May, I was thrilled, and knew it was going to be an experience I would not forget. From the training week in Killbear Provincial Park, where we refined our bird ID skills and learned about atlassing techniques, to the final days at our campsite, every moment was exciting and meaningful. 
As part of the Atlas' "Southern Crew", we were tasked with surveying in Central Ontario, which took us to many interesting spots around Sudbury and Algonquin. One of the most memorable of these spots was the northern portion of Algonquin, and Driftwood, the provincial park we stayed at for that week. Our time spent in this section of Algonquin was truly magical. Wildlife was plentiful in this area, especially bears. We even started calling one of the logging roads Bear Road, as we would see at least 5 bears a day on this road! Of course, I can't talk about the Atlas without mentioning the many bird species we encountered. We saw American Woodcocks during their flight displays and even Common Nighthawks performing their boom display, which I had never seen in person. Algonquin also revealed to us many warbler species, like Bay-breasted and Cape May warblers, which were a treat to see. We also had the pleasure of hearing Barred Owls and Eastern Whip-poor-wills back at the Driftwood campsites!
Our time in the field took us to many more special areas, where we witnessed countless breeding evidence. We observed many recently fledged young, adults entering nests with food, and adults protecting their young with distraction displays. Although all these observations were a sight to see, it did not come without sacrifice. We would wake up at 4 AM and battle the hordes of mosquitoes and deer flies daily, not to mention the harsh roads we drove through and difficult terrain that we hiked. Despite these obstacles, it was worth it all. I am thankful that I got to witness these unique habitats and "celebrity" birds that, some of which I had only seen in pictures.
Thank you again to the Atlas team! I am very grateful to be a part of bird conservation.
(Special thanks to all field staff: Karl Heide, Abbey Lewis, Mark Duchene, Justin Kreller, Tim Lucas, Dana Latour, Sarahanne Thompson, and Scott Da Rocha for their hard work this summer)
Square-bashes: a great success!
Square-bashes got underway in 2022 to great effect, and a good time was had by all. A big thanks to Anna Sheppard of Ontario Parks who helped a lot in arranging the events, which were all based out of Provincial Parks. Anna was also a significant participant in two of the events, and wrote an article for the Ontario Parks blog that provides a nice overview of the events and why you should be signing up next year. Here's her article: Square bashes with the Breeding Bird Atlas (ontarioparks.com)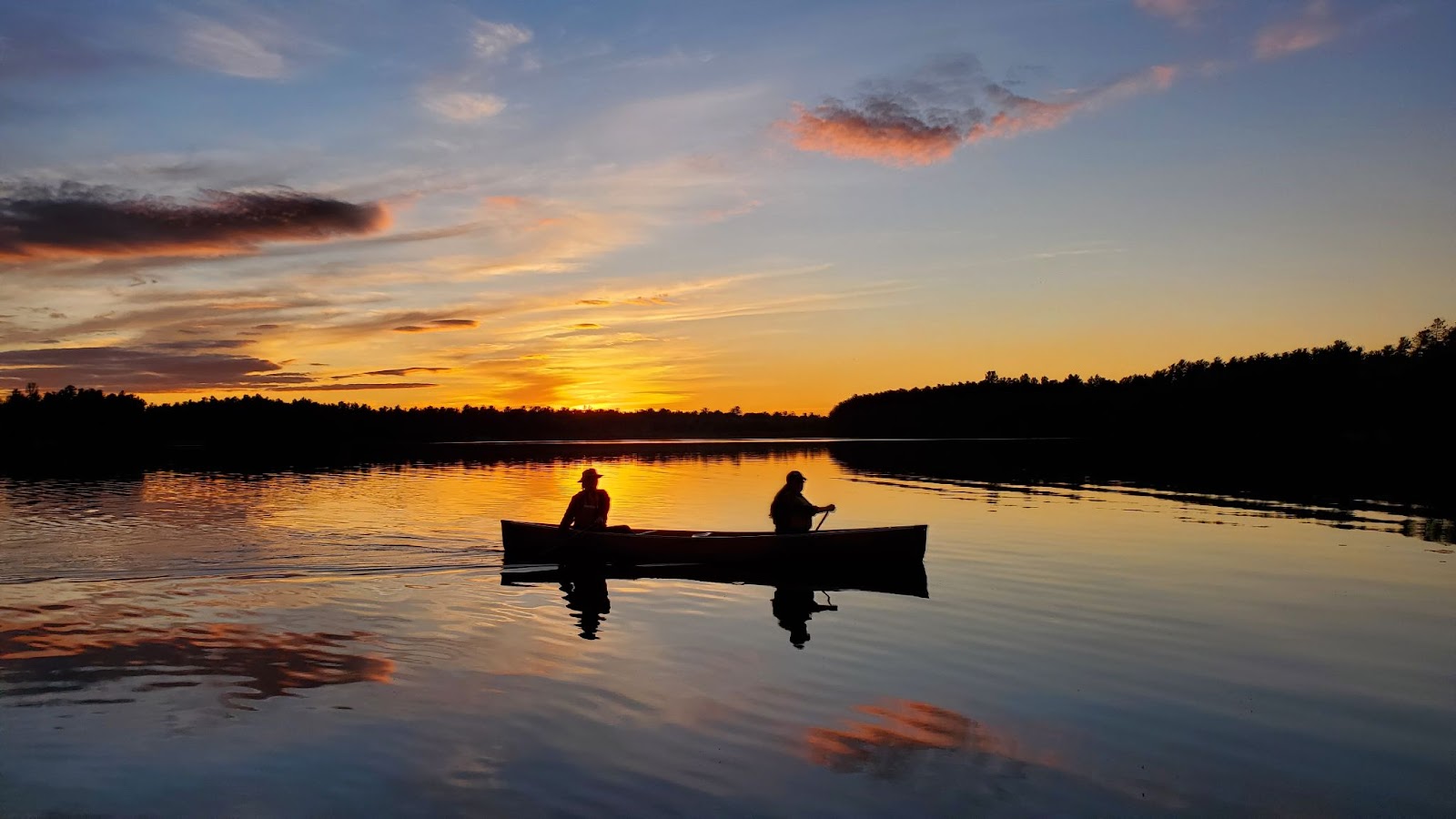 Anna Sheppard (steering) and Alison Lake of Ontario Parks paddle back in from an evening's square-bashing in Grundy Lake Provincial Park – to a chorus of serenading Hermit Thrushes! (Photo: Mike Cadman) 
Thanks too, to Emily Rondel and Mark Peck who arranged a Square-bash out of Halfway Lake Provincial Park, northwest of Sudbury. Here's their report:
Halfway Lake Square Bash – 10 -14 June, 2022
Mark Peck and Emily Rondel
Emily and I are Regional Coordinators (RCs) for Toronto (Region 12). It is one of the smallest regions with 16 squares, 3 RCs, plenty of volunteers and lots of visiting atlassers. In comparison, Sudbury West (Region 32) has 60 squares, 1 RC, fewer volunteers and only the occasional atlasser entering in birds they can easily identify as the drive along Highway 144 on the way to Timmins. Life is not fair. So, when Mike Cadman asked us if we would run a square bash in Sudbury West we happily agreed. It had been a long two years dealing with COVID and it would be fun to be out birding with a group of people again. The original plan was to bring a group from the Toronto Ornithological Club north for a June weekend, camp in Halfway Lake Provincial Park and atlas as many nearby squares as we could. Unfortunately, things did not go according to plan and as June approached it was clear the Toronto team was going to be very small, in fact, just the two of us. However, things were still moving forward, and the volunteer numbers were growing. Darryl Edwards, the RC for Sudbury West was atlassing in other parts of the region but would join us for Saturday. Ed Morris, the Northeast Ecologist for Ontario Parks had sent us an email with important park information and valuable suggestions and was going to help as well. Rebecca Rogue, a Resource Steward from Ontario Parks was also going to join us for the weekend. In addition, Bruce and Monica Gates, birders from nearby Dowling were coming as were Lindsay and Peter Bryan, annual seasonal campers at Halfway Lake. Gwen and Gerry Binsfeld had also agreed to come in from Manitoulin and give us a hand for a couple of days. Gerry and I had been on 4 northern trips together during the 2nd Atlas so I was looking forward to spending atlas time with him again. And finally, Alexandria Bludgell, one of the atlas fieldworkers hired in 2021 emailed us to let us know she was excited to join us and would even bring a friend, Imene Niali to help. Things were looking up. Thanks to the generosity and efforts of Ontario Parks, Anna Sheppard, Erika Poupore and the Atlas office, 5 campsites, close to the washrooms and electrical hookups had been reserved for us, free of charge, for the length of our stay.
We arrived on Friday afternoon, set up the tent and then took a drive around the area to get a feel for the habitat. It would be an interesting 4 days. Most of the roads leading off Highway 144 were logging roads, some traveling long distances through a variety of boreal habitats, some pristine, some recently logged. By the time we were back at the campsite Alexandria and Imene had arrived, set up a large, beautiful tent, which put ours to shame, and were already busy getting organized. Gerry and Gwen had opted to stay in a hotel 20 minutes south of the park and had driven up to check in. The rest of our team dropped by throughout the afternoon, and by dinner time we had a plan in place. Our focus would be point counts from 5 until 10 each morning and then we would continue with general atlassing the rest of the day or until we were tired, whichever came first. Darryl, Rebecca and Ed, knew the area better and would take on the more challenging and difficult to access locations while the rest of us would conduct point counts closer to Halfway Lake.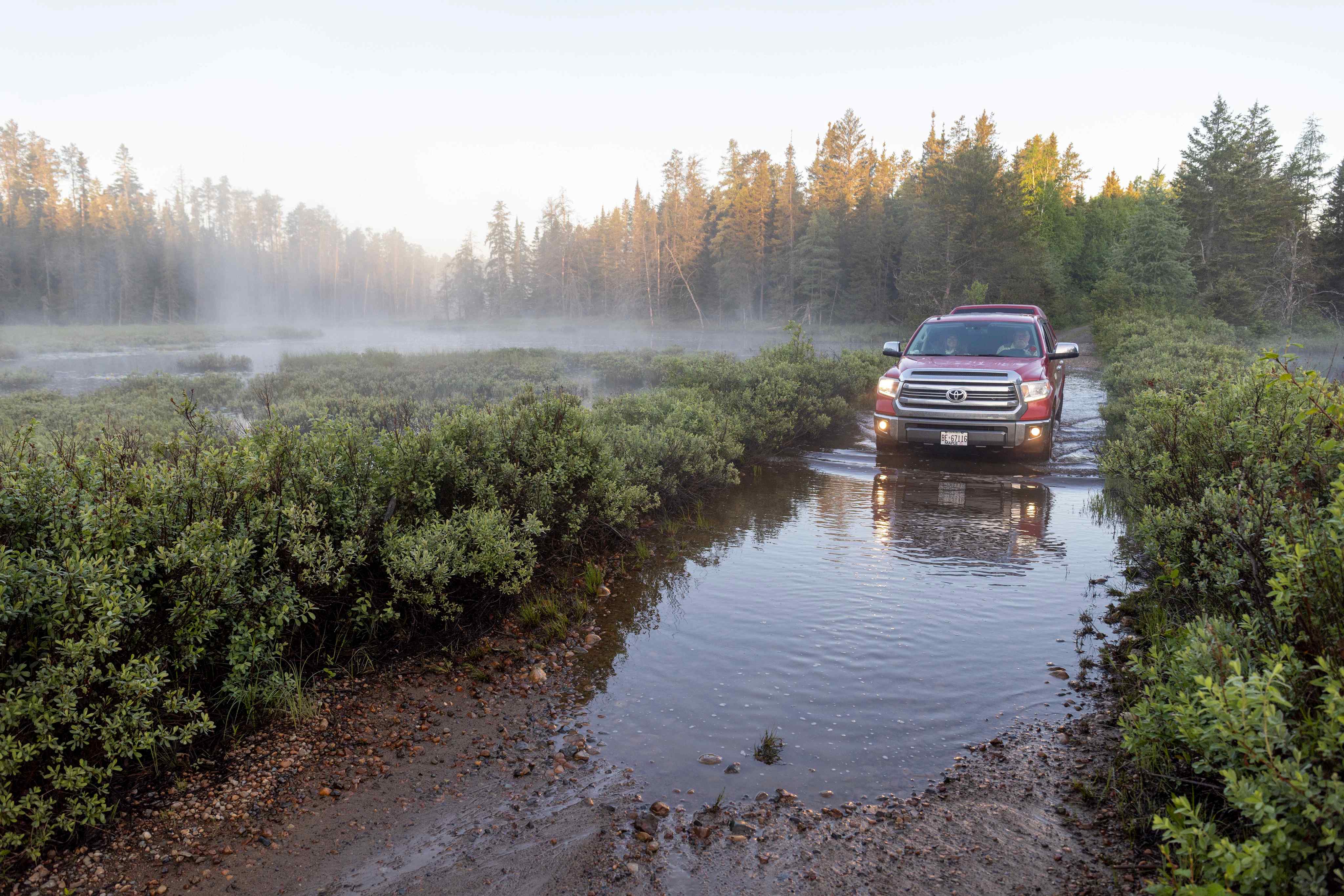 Gerry and Gwen Binsfeld navigating a flooded road in support of the Atlas (Photo: Mark Peck)
We would join Gerry and Gwen and take one of the longer roadside routes and leapfrog each other, alternating point counts. It was a good plan except for one problem. Nearly all our point counts were on old logging roads and although most of the roads were in great shape, the first one we visited wasn't. The first flooded area we went through was difficult but passable and we thought we were in the clear. However, 500 m farther along the flooding was even deeper and it was obvious we were not going any farther. Our first fifteen planned point counts were now inaccessible. Fortunately, the Avenza Map app on our phones came to the rescue. We had downloaded the Atlas square maps before coming north so it was just a matter of turning around and driving to point counts 21 through 35 which were on another, nearby road. Despite being outside of internet service all the apps and technology were working flawlessly. Avenza directed us to the point counts, NatureCounts was storing all the data, and we were using Merlin in the background to double check our counts. The Merlin audio app is by no means perfect, but it did help with some hard to recognize songs like Philadelphia Vireo and some of the high-pitched warbler songs. Rebecca, Alexandria and Imene were recording their point counts with the Zoom units which would be analysed later. For safety reasons we were working in pairs as much as possible with one person being responsible for point counts while the other person would focus on general atlassing. We all returned to camp in the afternoon, had an early dinner and then met up to go through the day's events. Even though most of us were in tents the electrical hookups were handy to have and allowed us to recharge our phones at the end of each day. We had also brought a couple of battery packs that could be used in the field if our phones ran out of power. It had been a good day. Several Olive-sided Flycatchers had been heard and seen, often in areas that had been logged and replanted with jack pines. A good diversity of boreal warblers had been found and both species of kinglets were singing in the campgrounds. It was great to be out birding in a new area of Ontario again.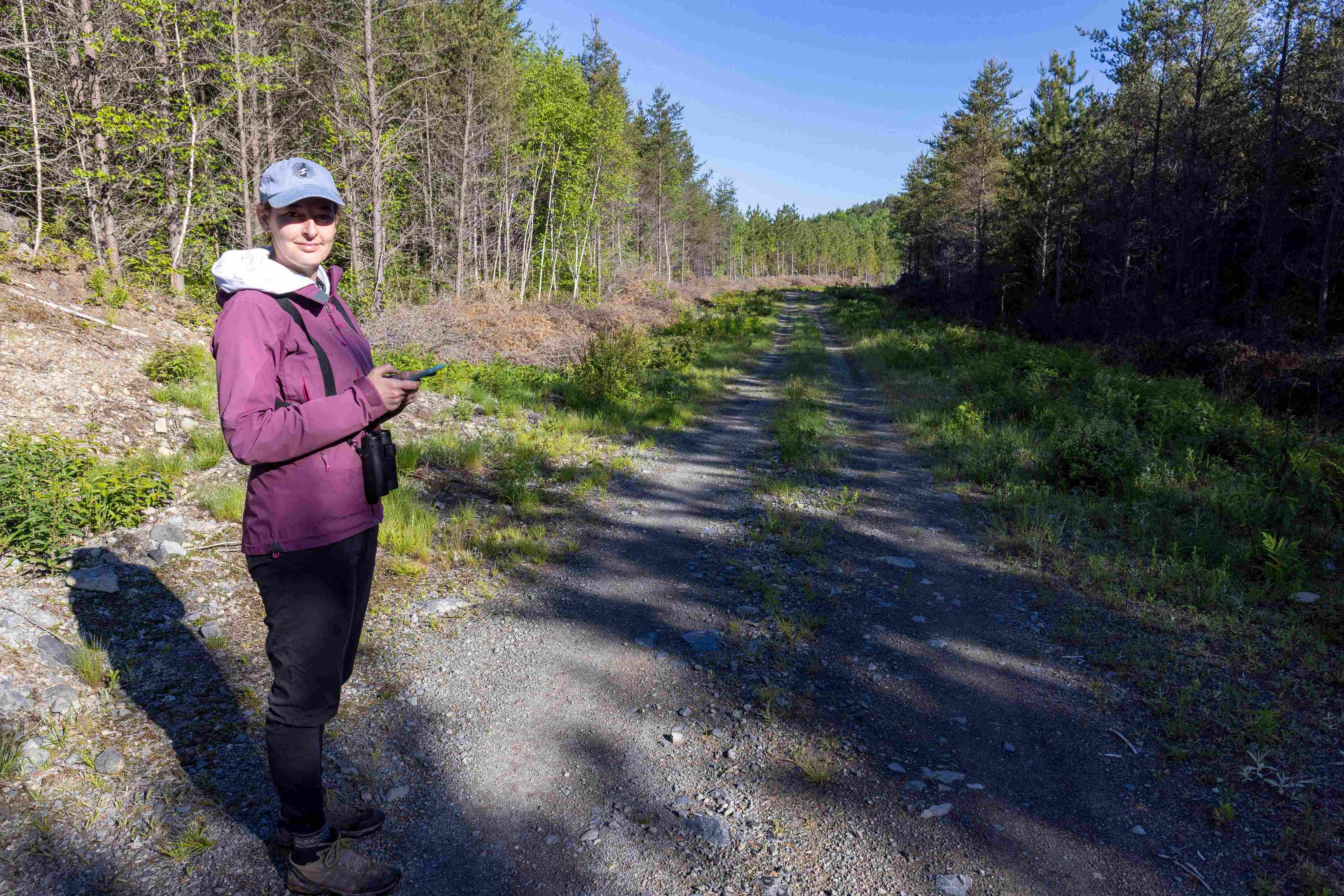 Emily Rondel conducting a roadside point count. (Photo: Mark Peck)
The next 3 days were similar. Wake up at 4:30, a quick breakfast and then off to a new square. At one point I went off with Alexandria and Imene to conduct an off-road point count and Alexandria gave me a quick, in the field workshop on the Avenza app and the Zoom recorders. She had been using both extensively last year, knew them well, and was able to teach me some valuable short cuts. Each habitat we visited was different and had a different suite of birds. Yellow-bellied Flycatchers were common in the spruce forests, and a few Philadelphia Vireos in the aspen groves. Gwen had seen a Spruce Grouse on one of jack pine trail walks and Emily and I found an Eastern Bluebird in an open wetland. Back at the campsite, Lindsay and Peter had been visited by a Black-backed Woodpecker and Bruce and Monica had set up a hummingbird feeder alongside their trailer and already had a ruby-throated visiting.
Most of our team were only able to stay for a day or two but by the time we left after finishing our point counts on Tuesday morning our group had been able to complete point counts, both on-road and off-road, for 4 squares. We had also done a lot of general atlassing hours and had a very enjoyable time with a lot of great people. The staff at Halfway Lake Provincial Park had been very helpful and we are already looking forward to working with Darryl Edwards next year to further support Sudbury West. If you haven't tried atlassing in northern Ontario I hope you will consider joining in a square bash in the remaining 3 years. Great birds, beautiful country and the bugs are not as bad as you might think.
Atlas Swag

You can now purchase almost anything (T-shirts, caps, mugs, tote bags, stickers, etc.) with the Atlas logo on it. To view the merchandise and make your purchases, click here. Looking forward to seeing you stylishly sporting your Atlas gear!

Monthly Challenge

The Atlas runs a monthly challenge to help encourage atlassers and thank them for their efforts. Each month, a bird-related prize is sent to a lucky atlasser who met that month's challenge. For the month of September, Atlassers who submit a photo of people atlassing with a sentence or two describing the atlassing adventure will be entered for a chance to win a one year subscription to Birds Canada's quarterly magazine, BirdWatch! We want to see and share what everyone has been up to this season! Submit photos here: www.birdsontario.org/media-submission/  The September challenge ends on September 30th. 
Volunteer feedback needed 
The Atlas-3 team is pleased to pass along this message from a group of researchers who are investigating how volunteer experiences in atlassing contribute to conservation outcomes. They welcome feedback from Atlas participants:
The Engaging Communities in Conversation Outcomes or ECCO project wants to learn about how community engagement through citizen science contributes to conservation outcomes. Your experience and expertise as a citizen scientist is key to this learning. If you are interested and willing to share your experience working on the Ontario Breeding Bird Atlas, we want to talk to you. 
For more information or to set up a conversation, contact Kayla.Wiens[at]alumni.unbc.ca or go to: eccoproject.squarespace.com
Until next time!
– The Atlas-3 Team
The Ontario Breeding Bird Atlas-3 thanks the following for their financial support:
Environment and Climate Change Canada

TD Friends of the Environment Foundation

Vortex

Natural Resource Solutions Inc.,

Hodgson Family Foundation

Baillie Fund

Wildlife Habitat Canada

RBC Foundation

Employment and Social Development Canada (Canada Summer Jobs)

Newmont

Parks Canada Agency
The Ontario Breeding Bird Atlas-3 thanks the following for their in-kind support:
Boreal Avian Modelling Project

Natural Resources Canada 

Ontario Parks 

Royal Ontario Museum 

Sustainable Forestry Initiative 

University of Alberta 

Wild Birds Unlimited 

WildTrax

Ministry of Northern Development, Mines, Natural Resources and Forestry