Dear Atlasser,
COVID-19: The Atlas team reminds all atlassers to be aware of the latest COVID-19 conditions in Ontario. Please follow all public health guidelines and restrictions, and check for updates frequently. Information on the latest conditions and public health guidance can be found on the Government of Ontario website. Follow the links to the most current situation in the province.
This edition of the Atlas-3 newsletter will cover:
Introduction

Farewell and Thanks from Mike Cadman

Welcome to Mike Burrell

2023 Square-bashes

Access to Provincial Parks for Atlassers

Northern trips: Still some availability for 2023

Assigned Squares

Checking the coverage map

2022 Block party in north-eastern Ontario

Atlas Swag

Save the dates!

Join the Atlas community on Discord
Introduction
With two years now under our belts, we are entering the middle phase of the project that will go a long way to determining just how successful we will be. Much will depend on how well we can expand on our efforts to date and fill in the gaps in Atlas coverage - so our focus is very much on identifying and then targeting those gaps. Identification is now well underway and should be completed by early March, at which time we'll be putting word out and doing everything we can to help ensure those gaps are filled.
Square-bashes will be key to that, as will basing atlassing efforts out of Provincial Parks, and supporting canoe trips into the remote north, so please see the notes below about our 2023 plans in each of these areas.
But it all comes down to you and the birding community. So, please devote some time to thinking about how you can help fill gaps, and convince your birding buddies that they should be part of the Atlas team.
Looking over the results from the first two years of the Atlas, a couple of things become clear. One is that we are off to a great start in gathering and compiling data on the current status, distribution and abundance of our birds. What also becomes evident is that we are approaching some significant milestones in Atlas effort. In 2023, we will undoubtedly surpass 100,000 checklists submitted to the project and 1 million breeding evidence records. These are amazing numbers to be celebrated and we do intend to do just that. Who will be the one to submit those milestone checklists and breeding evidence records? What special kudos should they get for being the lucky ones? We're currently devising some plans, and will provide more on this in future newsletters.
Farewell and Thanks
After 3 years of work preparing for and then helping organize the first couple of years of data collection for Atlas-3, Mike Cadman passed the torch and retired from both his work with Ontario Region's Canadian Wildlife Service and as Atlas-3 Coordinator at the end of December. Here's a note to the atlassing community from Mike Cadman:
Dear Atlasser:
Just a quick note to express my profound gratitude to you, as I retire from my position as Atlas Coordinator, for your work on behalf of the Atlas. It was (Holy Cowbirds!) 42 years ago this month when I first got involved with what was to become the first Ontario Breeding Bird Atlas, and my involvement in atlassing has been an amazing, wonderful, and occasionally stressful journey since then.
That first job was to write the "Participant's Manual" explaining the project, which was to be Canada's first breeding bird atlas, and how to take part, and to develop a list of Regional Coordinators who would make the project work. It's impressive to know that some of those original RCs are still RCs in Atlas-3. Paul Pratt in Essex, Geoff Carpentier now in Durham, Martin Parker now in Peterborough, Ron Tozer in Algonquin Park, and Alex Mills in Parry Sound all go back to 1981 and the first Atlas. Special thanks to those Atlas stalwarts! And, of course, to all the atlassers who have been there for all 3 projects! (Hope your hearing is hanging in there.)
Regional Coordinators have been one of the main sources of inspiration for my Atlas work. Their dedication and commitment, their hard work and expertise, the many hours of their own precious time that they dedicate to making the Atlas the best it can be, have helped get me up in the morning and drive my efforts. It's truly a gift to have such fine people helping the Atlas succeed. Please be nice to your RC and give them all the help you can!
The other source of my motivation is you atlassers. I've always loved team projects, and the atlas is a marvelous example of that teamwork. It's only possible to meet the project's challenging goals with broad-scale buy-in from the birding community, and from individual birders. It's individual birders who get their feet wet, tromp/wade/drive/bike/canoe into out-of-the-way locations at all hours of day and night, fight off the bugs, and collect all this invaluable data. Watching the maps filling in and knowing the effort and commitment behind that process warms my heart and brings a deep level of appreciation and connectedness. I hope you all feel that too!
It's been a privilege to coordinate these three (well, 2.5?) atlases. Thank you all for everything you have done so far and will do in the remaining years of the project. Happy atlassing – hope to see you out there.
Mike Cadman
Welcome to Mike Burrell as the new Atlas-3 Coordinator
Thanks to an agreement between Environment and Climate Change Canada and the Ontario Ministry of Natural Resources and Forestry, Mike Burrell is able to step in and fill (some of) the void left by "MIke C's" retirement.
"Mike B", as he has come to be known on the various Atlas committees, is very excited for the new task ahead. Mike is no stranger to the Atlas effort or to many of you, but he looks forward to working even more closely with all of you Atlassers and our amazing team of Regional Coordinators. Please stop him this spring if you see him out birding and say hi!
Please join us in welcoming Mike to his new role!
2023 Square-bashes
Square-bashes are enjoyable, multi-day events, bringing together atlassers with all levels of experience from across the province to focus their efforts on key coverage gaps focused around Provincial Parks. Thanks to Ontario Parks for generously providing free camping for Square-bash participants. Last year's events were a great success and we're hoping to build on that in 2023.
Please save the dates if you are interested in participating. Registration is required - we will have more news very soon about registering for these events and more. You could come for the entire duration of the event, or just part of that time. Our goal is to provide adequate coverage for as many squares as we can in and around the parks, while having as much fun as possible.
So far, three Square-bashes are in the works with another one under discussion. The three are:
Ma

cGregor

Point Provincial Park

: Monday May 29 – Friday June 2, 2023. This event ties in with the

Huron Fringe Birding Festival

which runs on the adjacent weekends. The Huron Fringe is a beautiful area at the southern end of the Bruce Peninsula with among the highest number of breeding species anywhere in the province, from Golden-winged Warblers to Upland Sandpipers to Broad-winged Hawks. At least some of the free campsites will offer electrical hookups. If you're heading to the Festival, why not add a few days onto your trip and help out the Atlas – or just come for the Square-bash alone.

Sharbot Lake Provincial Park

: Friday June 2 – Wednesday June 7. At last, a Square-bash event in southeastern Ontario! This event takes place in the rich amalgam of habitat along the edge of the Canadian Shield, and is particularly convenient for atlassers from the Kingston and Ottawa areas. It's right in the core of the Golden-winged Warbler range with Cerulean Warblers and many others a definite possibility.

French River Provincial Park

: Friday June 9 – Friday June 16. This will be a canoe-based trip along the historic French River in one of the province's most gorgeous landscapes at the northeast corner of Georgian Bay. The area is rich in Common Nighthawks and Eastern Whip-poor-wills, Sandhill Cranes, boreal warblers and too many others to list.
Please do not contact the parks or the Huron Fringe festival about these square-bash events as we are making the arrangements through the Atlas-3 office.
Access to Provincial Parks for Atlassers
We encourage you to go atlassing in Provincial Parks. Parks can be home to species uncommon in the rest of the landscape, and data provided from parks will contribute not only to the Atlas but to an understanding of how well Parks protect our birds. Parks may also have trail systems well suited to doing off-road point counts and atlassing.
Thanks to Ontario Parks, atlassers may be able to access and/or camp free of charge while collecting atlas data in many provincial parks. It must be noted, however, that complimentary access and/or camping at operating parks is at the discretion of the Park Superintendent. Complimentary access, camping, campsite availability and quality are not guaranteed.
Please do not contact the park about this yourself. You should contact the Atlas Regional Coordinator for the region containing the Park and let them know which park you are interested in and provide dates that you would like to be camping and atlassing.
For overnight trips:
Eligible dates for free camping are in the period May 24 through July 10. Usually no more than five days of free camping will be provided. You should also indicate which square(s) in and around the park you would like to cover and whether or not you will be doing point counts, either in-person or digital using Zoom H2n units – priority will go to atlassers doing point counts. The RC will check with the park and let you know if and when free camping can be provided.
If you are interested in camping for atlassing purposes, it is best to act asap. The parks book campsites 5 months ahead, so will soon be filling up for atlassing season, and you are most likely to be successful if you can get your arrangements in place before the campsites are full. Please note that Algonquin and Killarney Provincial Parks are being handled separately, please see the website here.
For day trips:
If you want to go atlassing in a Provincial Park, but do not require camping, you may be eligible for free access for atlassing purposes, but don't need to act as early. Let the RC know at least two weeks ahead of your first planned visit, and the RC will approach the park on your behalf to request free entrance to the park for atlassing purposes. If permission is granted, you will be provided with a letter that you can present at the park gate. The eligible period for complimentary access for atlassing is January 1 through July 29.
Northern Trips - Still Some Availability for 2023!
Planning for 2023 Northern trips is well underway but there are still opportunities to contribute . Here is what remains available at this time:
Little Sachigo Lake: seeking 2 skilled birders
Upper Moose River: space for 1 additional skilled birder
Ekwan River: seeking a crew of 4 (ideally at least 2 skilled birders and 2 skilled canoers) (funding for this trip remains uncertain)
If anyone has good quality 16' or 17' river canoes they are willing to loan to the atlas, this would be a significant cost saver. In addition, we will be seeking one volunteer with a truck or SUV to drop off 4 people in Pickle Lake in mid-June.
If you are able to help out with any of the above, please email Karl Heide as soon as possible [email protected]
Assigned squares
As efforts increasingly focus on gaps in Atlas coverage it becomes very important to know whether "Principal Atlassers" are going to be able to finish up their squares. Principal Atlassers are those who have taken on responsibility for ensuring that an Atlas square will be adequately covered – both the minimum of 20 hours of atlassing and the 25 point counts. (Note that this doesn't exclude any other atlasser from working in that square – everyone is welcome to atlas anywhere.) The squares assigned a Principal Atlasser have a blue dot on the coverage map. If you are a Principal Atlasser, please contact your RC and let them know whether or not you will be able to meet those obligations for the square(s) you have been assigned. This information will help the RC in planning and in ensuring that all squares do indeed meet our coverage goals.
If you're not a Principal Atlasser but would be willing to take on that responsibility, please let your RC know. That will help greatly in the planning process.
Checking the Coverage Map
To find out what atlassing work has been done to date or figure out how you can fill important gaps in atlas coverage, please check out the Atlas' Coverage Map. You can find it on the main page of the Atlas website under "Tools and Resources/Coverage Map". See Figure 1, below, for a sample map.
When you open the page, you have the options to select as many as you like to the following five options, which will appear on the Coverage map:
Highlight priority squares*

Highlight marsh birds priority squares

Show square assignments

Show atlas regions

Show atlas blocks
*pertinent to Northern Ontario only
Then you can choose among several "Layers" to show you particular types of data on the map. These include:
Effort - Hours (Year round)

Effort - Hours (Peak season)

Number of Species

Number of Point Counts

Eastern Screech-Owl Survey

Atlas Marshbird Survey

Long-eared Owl survey
Then click on "Update map", and the map will show your selection. You can change layers, but be sure to click "Update Map" to show your new selection.
The key layers for general atlassing are, of course, Peak season hours (where our goal is at least 20 hours per square) and Point Counts (goal of 25 per square). Number of species is helpful for determining whether your square has as many species as those around it. (The Square Summary Sheet is another useful tool, listing all the species reported to date in each square in this and previous atlases.) The other layers help you see where Special Surveys have been done, and still need to be done.
So, check it out and think about how you can help meet Atlas goals. Don't forget to let your RC know what you have in mind or ask how you can be most helpful.
Figure 1. Example of a Coverage map showing the number of point counts in each square in south-eastern Ontario. Darker shades of blue indicate more point counts have been done. The blue dots show squares assigned to a "Principal atlasser" (PA). Future efforts should prioritize squares with few or no point counts, especially those with no PA.
2022 Block Party in North-eastern Ontario
Angie and Ken Williams of Cochrane (Region 42) boldly decided to take on a whole new challenge in 2022, trying to get all 5 target squares in one Northern 100-km block covered in one "Block Party" event, similar to a southern Ontario Square-bash. Other atlassers were invited, but, unfortunately, perhaps due the considerable distance from the south, and/or the sudden jump in gas prices last summer, they ended up doing all the work on their own. Here is their report:
What an experience this June and July in Block 17UNR where we attempted to bash five priority squares! Spring scouting with our co-coordinator for Region 42, Rhonda Donley, proved there was ample free camping on publically-accessible lands. The camping areas are used by moose hunt camps in the fall have plenty of room and roadside counts are mostly accessible by pretty good "trail roads".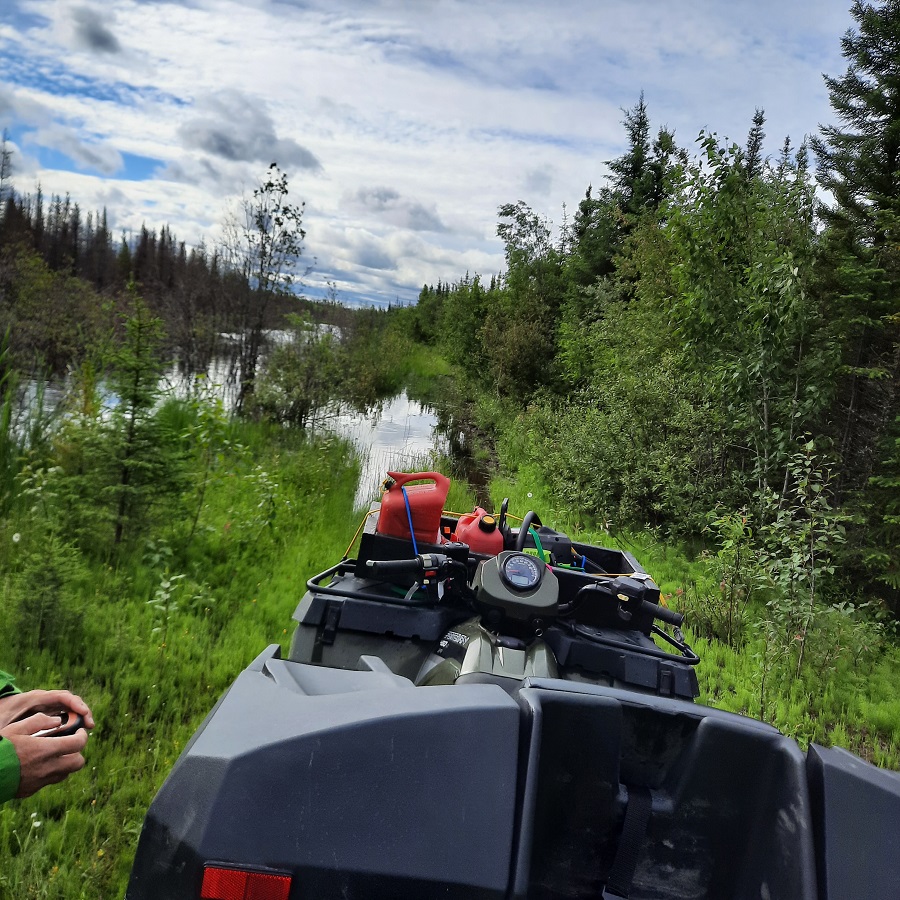 We got started in square 17UNR50 at Upper Kesagami Lake Road, 117 km northeast of Cochrane. Our first suspect for confirmation was a Belted Kingfisher nesting right there! The weather was windy and rainy and we moved the next day to Upper Kesagami Lake Road #2 a few km north and had more luck from that site. We returned to our original location a few more times in nicer weather, and Ken confirmed breeding of Golden-crowned Kinglet.
Roadside counts were made easy by ATV off the highway and our nicest off-road counts were via canoe on nearby George Lake, where a Woodland Caribou had been seen the day before we got on the lake. There, Angie found us a loon nest with eggs and watchful parents nearby. Walleye went on the menu and Angie caught a 10 pound Pike! Fears of bears in the area were unfounded for us, and nobody else was seeing any but one sow with two cubs.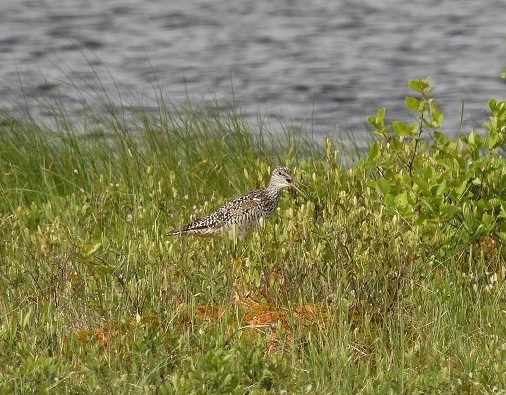 Our favourite square was 17UNR51, with a site close to a new cell tower. Spectacular views from the roadside counts were many and we were chased by a pair of Greater Yellowlegs. We also found a Spruce Grouse guarding her chicks and later, a Ruffed Grouse doing the same. One of our nicest finds, by Angie, was a Philadelphia Vireo in a nest, for which our new Nikon P950 pulled a clinching I.D. photo.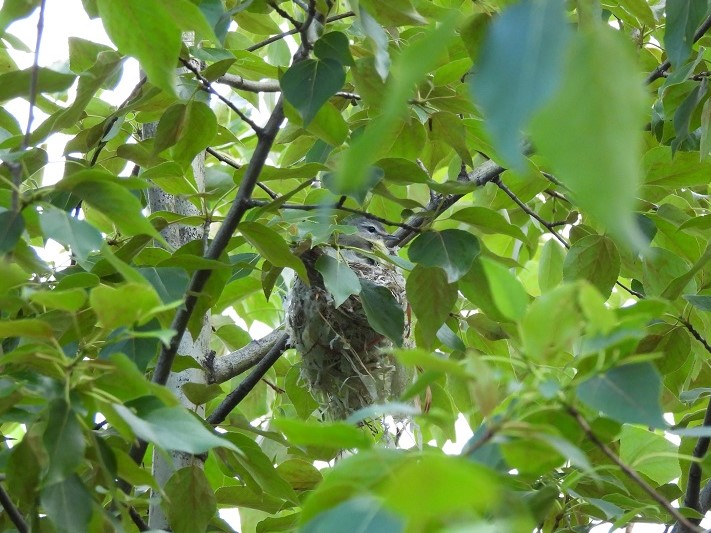 We finished our first two squares in spite of the wind slowing us down. In our new site at 17UNR62, the weather only allowed us to do 12 point counts and we found that some of the old logging roads had disappeared. However, we have a plan for the next crew to finish the block. When Rhonda arrived to camp, the weather turned worse again and we grudgingly left for home.
As mentioned, undaunted, Angie and Ken plan on returning to Block UNR in 2023 and finishing it up. Thanks so much for an excellent effort, Angie and Ken. That's really valuable data! If you'd like to help them, please email them at [email protected]
Atlas Swag

You can now purchase almost anything (T-shirts, caps, mugs, tote bags, stickers, etc.) with the Atlas logo on it. To view the merchandise and make your purchases, click here. Looking forward to seeing you stylishly sporting your Atlas gear!
Save the dates!
We have a number of exciting events coming up - watch Atlas communications for more details in the coming weeks, but you can pencil these in now on your calendar. Hope to see you there!
March 14 - Sappy Hour (owl surveys)

April 18 - Sappy Hour (NatureCounts App update)

April 22/23 - Year Three Kick-Off Weekend!

May 23 - Sappy Hour (Atlassing intro/refresher)

May 29 - June 2 - Square Bash at MacGregor Point Provincial Park

June 2-7 - Square Bash at Sharbot Lake

June 13 - Sappy Hour (topic TBD)

June 9-16 - Square Bash at French River

June 24/25 - Big Atlas Weekend
Join the Atlas community on Discord

Got a question about a specific Atlas topic or just want to connect and share stories with other Atlassers? Join the Atlas Discord, a communication server with different channels, each specific to an Atlas topic! For detailed instructions on how to join, check out: birdsontario.org/discussion

Invite link:

https://discord.gg/JCfgfr3egG
Support the Atlas!
The Atlas team is hugely appreciative to everyone for their volunteer efforts in support of the project. If you would like to help even more, please consider making a donation in support of the project, too. You can now donate directly to Atlas-3 by following the secure links from the Atlas website - or click on the donate button at the bottom of this e-newsletter. You will receive a charitable receipt for income tax purposes from Birds Canada - and an extra warm feeling inside, knowing you're supporting the project with a donation and your volunteer efforts. Thanks so much for considering this!
Until next time!
- The Atlas-3 Team
The Ontario Breeding Bird Atlas-3 thanks the following for their financial support:
Environment and Climate Change Canada

TD Friends of the Environment Foundation

Vortex

Natural Resource Solutions Inc.,

Hodgson Family Foundation

Baillie Fund

Wildlife Habitat Canada

RBC Foundation

Employment and Social Development Canada (Canada Summer Jobs)

Newmont

Parks Canada Agency
The Ontario Breeding Bird Atlas-3 thanks the following for their in-kind support:
Boreal Avian Modelling Project

Natural Resources Canada

Ontario Parks

Royal Ontario Museum

Sustainable Forestry Initiative

University of Alberta

Wild Birds Unlimited

WildTrax

Ministry of Northern Development, Mines, Natural Resources and Forestry